Lone Worker Protection Devices

Lone Worker Protection Devices
You probably are familiar with the panic-button used in a shop or in a bank mounted behind the counter. By pressing the button an alarm signal goes to the police.
Lone Worker Protection Devices have several major advantages over these traditional buttons:


The device is worn on the body, and an alarm can therefore be raised from anywhere. It can therefore be used in situations where a fixed panic-button is not possible (outdoors and in remote locations) or may be impractical to reach in an emergency (e.g. after a fall).
The device can pinpoint the user's location and will track subsequent movements if necessary.
The device can also function as a non-movement alarm. This is crucial for when the user is unconscious – when the user is not capable of pressing the alarm button, the device automatically activates itself.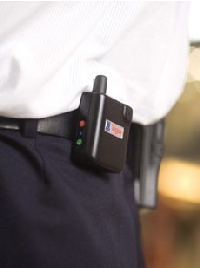 Security
Security for employees is a primary responsibility of any employer. This is spelt out in the Lone Worker Protection Act, which relates to the safety of all employees working alone, whether within an office or elsewhere. It is important to note that a Risk Inventory and Evaluation (RIE) needs to be carried out.
Control
Employers can have problems managing their employees' working timetables. In order to supervise their work schedule, employees can be monitored outside the office (tracking). You can ask yourself questions like: "How late did he/she start working this morning?" or: "Was he/she on schedule for his/her appointment?". The system can give a combination of time and location of a person, which solves this problem. It can therefore assist you in managing your employees and give an overview of who is working where.
Logistics
You want the highest efficiency for your employees. This is one of the important issues for people who are working on call – for instance, security personnel, nurses or couriers. It is very important to know the exact position of this person and whether he or she is available or not. You can keep track of circumstances like traffic jams, road blocks etc. You can see the shortest travel time to your customer requiring your service.
Please contact a P&Q Advisor for further information.