Quality Assurance at
P&Q International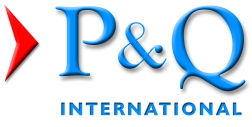 Quality Assurance
P&Q International

takes the issue of the quality of its software and the services it provides very seriously. To this end, we worked towards and first gained ISO 9001 accreditation in September 1998.

In brief, Procedures and Working Instructions which had been in use for many years (and steadily improved during that time) were updated and ultimately incorporated into or referenced by Quality Assurance and Quality Procedure Manuals produced in conjunction with our external quality auditors, Quality Management Systems International plc, who carry out an audit each year.

Serious deficiencies and the rare client complaint are escalated to Director level as soon as they come to light and action is taken both to resolve the problem and to improve working practices to prevent a reoccurrence.