SAFEcontractor Accreditation of
P&Q International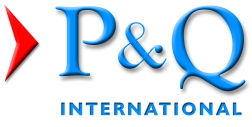 SAFEcontractor Accreditation of
P&Q
P&Q International plc is one of the latest group of successful companies to join a leading-edge scheme, designed to help industry improve its safety record.
SAFEcontractor is operated by international safety, health and environmental risk management specialists, National Brittania (now part of the Connaught Group). The system is applicable to most sectors although it is particularly relevant to food manufacture, property, facilities management, retail and leisure sectors.
James Ostler, Managing Director of Information Service at National Britannia, said, "Major organisations can no longer run the risk of employing contractors who are not able to prove that they have sound health and safety policies."
"More companies need to understand the importance of adopting good risk management in the way that P&Q International has done. The firm's high standard has set an example, which hopefully will be followed by other companies within the sector."
Under the SAFEcontractor system, businesses undergo a vetting process, which examines health and safety procedures and their track record for safe practice.
Those companies meeting the high standard are included on a database, which is accessible to registered users only via a website, www.safecontractor.com.