About
P&Q

– a brief history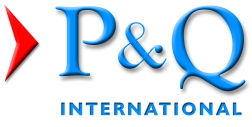 About
P&Q

– a brief history
P&Q

was formed in February 1979 by our Managing Director, Donald Q Gardiner, as a Software Consultancy (

P&Q Associates Ltd

) providing consultancy and development services to large companies in the UK and overseas.

During the initial years, we did development and analysis projects for companies such as Cyanamid, Citibank and BP. Our projects included developing systems for:
Stock Control
Data Collection and Analysis: to detect and report telephone network node failures
Time and Attendance
Recognising the need for a powerful and comprehensive Data Collection package, we designed and developed the Q›TAR System during 1984. This was the world's first Time & Attendance Recording package available for the then-new microcomputers. Other applications and platforms soon followed.
The success of the Q›TAR package led to a steady expansion within P&Q Associates and to the opening of an associate company in New Zealand (BCS Systems) in 1988. We are also represented in West Africa by Aeon Ventures Ltd in Ghana. The company name was therefore changed to P&Q International Ltd in 1990 and to P&Q International plc in 1994, though P&Q is still privately owned.
After nearly 18 years at the same location in the countryside near Ware, in December 2000 P&Q moved a few miles north to new premises on the edge of Braughing, Hertfordshire. In 2017, we made the move to our current location on the northern edge of Cambridge, from where we have easy access to the rest of the UK and Europe, and indeed to the rest of the world.
P&Q's customers now include multinational manufacturers, financial institutions and government organisations. Read more >>
Delivering innovative solutions for your business

We have maintained our lead by continually developing and enhancing our products to meet changing business needs and technology.

We tailor these applications for individual businesses and organisations, and support them with a full range of complementary services, including hardware provision, installation, on-site training, telephone/e-mail hot-line and maintenance services.

In addition to our industry-leading Time and Attendance, Access Control and Data Capture solutions, we provide consultancy, using our expertise to find new solutions for particular business challenges.

We are customer-led and are always happy to discuss unusual problems and innovative solutions with existing or prospective clients.
Quality

At P&Q we are dedicated to providing the highest quality of service and are fully ISO 9001 certified. We are also SAFEcontractor accredited, and are members of the Federation Against Software Theft. Our staff have been trained in site safety by the Safety Passport Alliance.