Q

›

TAR Time and Attendance Management

Time and Attendance Management
Your most valuable resource – and also one of your highest costs – is your staff. Q

›

TAR is a Time & Attendance Management solution that gives you greater control of your manpower costs and cuts payroll and flexitime administration.
Q›TAR systems are tailored to your work rules, have features such as flexible working and interface with your payroll and HR systems. They can integrate functions like time management, access and security, labour costing and job costing, and deliver a wealth of management information.
Q›TAR provides a complete solution for companies, enterprises and organisations that have from 50 to 100,000 or more staff, and that want a solution that will meet their current and future needs.
From Clocking to Payroll
Q›TAR delivers advantages at every step from clocking to payroll.
Clockings from badge readers or other sources are received and processed automatically. Data can be transferred to payroll, personnel and financial systems, eliminating human error and saving valuable time. Many users spend less than 15 minutes per day on administration.
Q›TAR can cater for all types of clocking rules, shift and overtime patterns and variable working, including rotating shifts, continental shifts, and unplanned shift changes. It handles any payment criteria and absence rules and can deal with Time-in-Lieu and Banked Time.
Reduced queues at clocking-out time and payroll without errors ensure it is welcomed by staff, while comprehensive management reports support your decision making.
Q›TAR aids compliance with the Working Time Directive by warning of potential violations – and its historical reports satisfy the reporting requirements.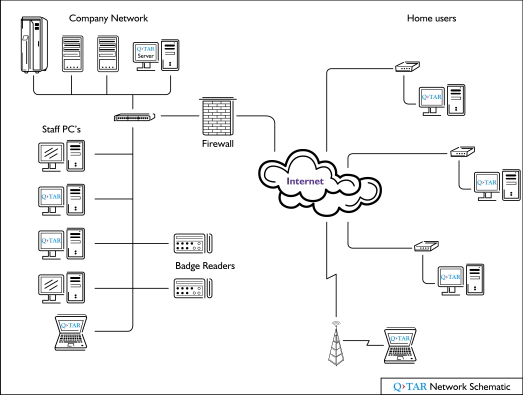 Flexitime
Flexible working hours are becoming the norm in many fields. However, the time and trouble needed to record and control flexitime manually can offset the advantages. The Q›TAR Flexitime System overcomes these problems, and allows the full benefits of flexible working to be realised while reducing administration. >> Read more
Q

›

TAR Time & Attendance Management
The Q›TAR system provides more than simply a Time Recording System. It offers a range of facilities including:
Exception and Anomaly Reporting
Hours Worked and Overtime Reporting
Absence Reporting and Management
Absence Duration and Frequency reports, including Bradford Factor
Holiday and Absence Entitlement Management
Holiday Planning Reports
Working Time Directive reports
T&A Readers
Q›TAR works with virtually any type of hardware. Biometric, proximity (e.g. Mifare® and HID®), RFID, smart card, magnetic-strip, and bar-code readers can all be used. Read more >>
Please contact a P&Q Advisor for further information about any of the above items.