Q

›

TAR® and SALTO® Access Control Solutions
Access Control Solutions
Electronic Door Locks and
Networked Locking Systems with
SALTO® Smart Access Locking Technology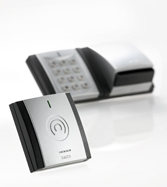 If you have key-operated doors and large numbers of users, you face major costs and disruptions each time someone loses a mechanical key, or leaves the company.
Problems still exist if you have doors with stand-alone keypads. Reprogramming each door will take time, resulting in costs and delays.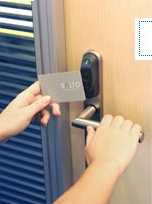 Smart Access Locking Technology can provide a simple, cost-effective solution, and lets you provide site-wide access control at low cost. It is more secure than managing a system with keys, and far cheaper than access systems that require the building to be wired.
Smart Access Locking provides a patented virtual network that offers the benefits of a wired network system without the expense. It is self-contained and quick to install, turning any mortise lock into an access control point.
The system can use any convenient user-ID technology such as Contactless Proximity identification with Key Fobs or Smart Cards.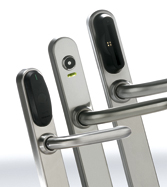 Each lock and each card maintains a database, which is updated every time it is used.
Lost, stolen and withdrawn cards can be deleted from the system automatically. Each card also builds up an audit trail of where it has been used, and each lock retains an audit trail of which cards have been used there.
The Smart Locking Access Control system looks like an ordinary set of door handles, but conceals sophisticated battery-powered electronics that provide a virtual access network.
SALTO i-Lockers
The SALTO i-Locker electronic locker lock is designed to provide a high level of security protection for lockers and cupboards, etc. It features a large twist operated locking turn for ease of use, and the access reader is built into the outside escutcheon. The locking mechanism, electronic components and battery pack are all located on the inside of the door, safe from potential manipulation or vandalism.
The i-Locker is perfect for controlling access to lockers, cupboards, cabinets, cabins, boxes, show cases, where access control, timed access and full audit trailing are required, e.g. where valuables such as medical drugs, electronic equipment, etc are stored.
Upgrading from an existing mechanical lock is simple. The old lock is removed and the new i-Locker lock is fitted in its place. Fastening screws on the inside of the i-Locker lock are adjustable to exactly the same dimensions as those typically found in most mechanical commercial locker and coin operated locks, ensuring a neat fit and professional appearance.
A wide choice of ID-carriers for use with the lock is available to suit individual preferences including iButton®, Smart Card, and the SALTO RFID technologies (Mifare®, DESfire®, Vicinity®, HID iClass®, Legic®, Picopass®) contained within a choice of card, wristband, key fob or bracelet formats. Of course they are fully compatible with the rest of the range of SALTO access control equipment, so staff need carry only one badge and no keys.
Please contact a P&Q Advisor for further information about any of the above items.